We are extremely delighted with the new floating Marina, a project that represents hard work and determination.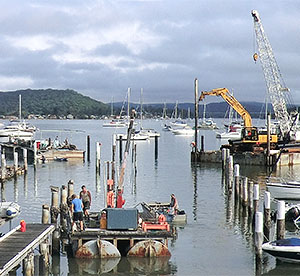 The Marina jetty was first approved and built in 1964, and was completely rebuilt in 1995, after a fire had destroyed much of the building.
In December 2013 we lodged a DA to extend the jetty. On the 3 March 2015, Gosford City Council granted consent.
On the 10 June 2015 we applied to modify the development consent to allow installation of a floating wharf instead. On the 19 August 2015, Gosford City Council granted consent to allow this development and amended the conditions of the original consent.
In 2015 the Licence area has been altered to allow for the approved development of the wharf.
In March 2016 we commenced, and in May 2016 we completed the construction of the floating walkway and fingers.
In February 2017 we completed the construction of the wharf.
* * *
The ~78 m of floating walkway (~3m extra wide) and finger pontoons (~0.9 m wide), restrained in place by vertical HPE cased steel industrial pylons, were designed in accordance with applicable standards.
Access to the walkway from the jetty and from the barge is provided by the 2 gangway access ramps, made of aluminum frame and plates.
We completely replaced all the berth timber pylons with HPE cased steel industrial pylons.
We completely replaced and modified the electrical power supply system, and installed service pedestals to supply water and individually metered power to all berths.
We replaced the lighting with minimal and energy efficient lighting, sufficient to provide for safe pedestrian access to berths and for safe navigation in and out of the facility.
All the berths became wider and further out into deeper water.
We are happy to be able to offer these great facilities, matching our Magnificent Location.