Silicone tape leader Rescue Tape is the world's best-selling brand of self-fusing silicone tape. Silicone tape was first used by the US Military and after significant improvements is now sold worldwide under the Rescue Tape brand, the fastest-fusing and strongest silicone tape available on the market today.
Rescue Tape is a self-fusing and self-bonding silicone repair tape with infinite uses making Rescue Tape the most versatile and easy-to-use emergency repair product available. You can repair leaks on plumbing and hoses in a flash, use our silicone tape to insulate electrical wiring or as shrink wrap, wrap tool handles, and much, much more.
Rescue Tape is the Ultimate Multi-Purpose Self-Fusing Repair Tape.

Silicone Rescue Tape . . .
Is Self-Fusing.
Incredible 950 PSI Tensile Strength.
Insulates 8,000 Volts per layer.
Withstands 500° F Degrees of heat.
Remains flexible to -85° F (-60° C).
Creates a Permanent Air-Tight, Water-Tight Seal in seconds.
Never gets gummy or sticky like electrical or duct tape - it will never leave any sticky residue.
Has an unbelievably long shelf life.
Is extremely versatile - The fixall repair product that you've been looking for.
Resists Fuels, Oils, Acids, Solvents, Salt Water, Road Salt, UV Rays.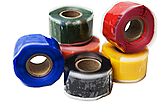 Silicone Rescue Tape has infinite uses.
If you can overlap Rescue Tape onto itself, it will work, even if the surface is wet, dirty, greasy or oily. Here are just a few suggestions:
Keep it on board vehicles & equipment for emergency hose repair.
Seal leaky hoses, pipes, tubing, lines, & fittings.
Neaten up lines and extension cords in stowage.
Wrap tools and handles for a GREAT non-slip grip.
Wrap wiring harnesses and custom split-looming.
Waterproof electrical connections and terminals.
Use it as an emergency fan belt.
Make emergency O-Rings.
Wrap hydraulic fittings and other exposed metal connections to help prevent corrosion.
Use it as a tourniquet or emergency wrap over bleeding injuries.
* * *