Prop Speed is a relatively new innovation specifically designed for application on propellers, rudders, shafts, skegs and trim tabs. Prop Speed™ works because it is slick, not because it is toxic.
Application of Prop Speed is a two step process using a 2-part advanced catalysed etch primer followed by a silicone based top coat.
Prop Speed is an environmentally safe product and does not contain copper, tin or any other toxic substances which may cause environmental pollution.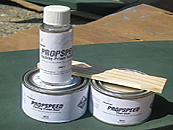 Prop Speed will increase vessel performance and fuel economy, providing a full 12 months of service life. Its limitations are only if the vessel has an electrolysis issue, or coated surfaces come into contact with any abrasives such as a diver cleaning your hull or a sand bank.
Given the harsh running environment that prop maintains, moving large volumes of water and constantly residing in a whirlwind of turbulent water it isn't a surprise that a prop coated with antifoul may not last as long as the expected service life of other less turbulent areas of the vessel.
This early wear off has obvious consequences, to mention a few; the growth on your prop over time should the antifoul wear off will reduce vessel performance, decrease economy.
Prop Speed is a solution to a problem which has frustrated owners and captains for years. Prop Speed prevents marine growth from bonding to metal surfaces below the waterline.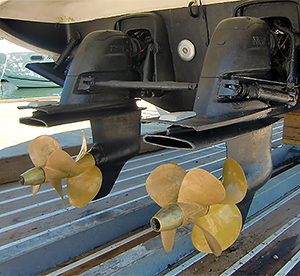 There are also other benefits from utilizing Prop Speed on your vessel, increased performance being one with an increased rotation speed allowing for increased fuel efficiency, all of this due to the much smoother final surface of your propeller more like a stainless props smoothness as opposed to an anti-fouled surface.
Uses: Propellers / Shafts / Bow Thrusters / Stern Thrusters / Rudders / Trim Tabs / Keel Coolers.
Benefits
Increased Vessel Performance.
Increased Fuel Efficiency.
Lower Maintenance Costs.
Long Service Life.
Zero Toxic Substances.
Limitations
The Prop Speed system is not recommended nor approved for use in aquaculture or contact with food products.