Occasionally, we have Boats for sale.
At the moment we have ...
1994 Adams 31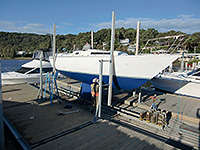 Joe Adams designs have influenced all modern yacht design with long water line and fine bow entry to create vessels that sail fast and safe. The Adams 31 has a reputation as a quality seaworthy vessel with excellent stability. They are a lovely boat to sail and cruise.
She has a large amount of volume for a 31 footer and with the centre cockpit she is comfortable and very easy to sail. Come take a look.
You may be a retiree looking for a small restoration project that will see you camping and cruising in safety with the grandkids or you might have a young family looking to spend weekends or school holidays cruising, swimming, fishing and exploring the waterways of Sydney Harbour, Pittwater and beyond.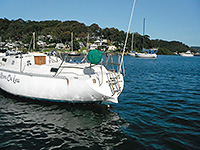 Moon On Less is in need of a new owner who is going to give her the attention she deserves to bring her back to her full potential.
Adams 31's are currently being listed for sale in the range of $45-$50k.
Moon On Less is realistically listed for sale at $22,500.