The area is one of the most picturesque in the world ... spanning across waterways of Pittwater, Broken Bay, the Hawkesbury River, Cowan Creek and Brisbane Waters.
Hardys Bay arguably enjoys the best views in the estuary of Brisbane Waters, but this magnificent location is also highly regarded with the boating fraternity due to a number of rational advantages as a berthing and mooring spot.
We think there is enormous value in our location and the pristine of Hardy's Bay as a permanent place of abode for your boat.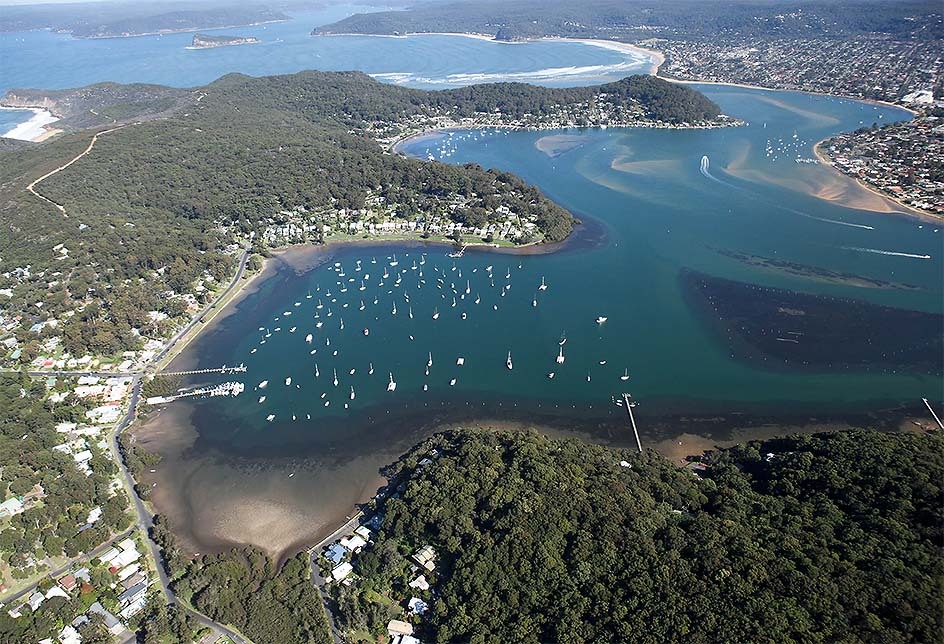 Killcare Marina is:
24 nautical miles from the Sydney Harbour Bridge.
68 km from Hornsby.
Just take a short drive, and you are a world away from the stresses of Sydney.
The closest in Brisbane Waters to Broken Bay.
The Marina is the first marina coming into Brisbane Waters from Pittwater and Sydney, and of course, the last one when leaving, and therefore enjoys the easiest access to the Tasman Sea.
Wherever you take your boat out, you do not have to waste this extra time each way.
Protected from the Most Severe Weather.
Our location is sheltered; due to its location Killcare Marina has the benefit of being protected from most occurrences of high winds and other spells of inclement weather by local terrain.
The concrete barge protects the wharf from seasonal westerly winds.
Away from Boat Traffic, Boat Wash, and from Tidal Flow.
Boat wash within the Hardy's Bay is negligible. Speed limit in the bay is 8 knots.
Hardy's Bay is a larger mooring area, and Tidal Flow within the bay is negligible, unlike further upstream. Vessel Masters appreciate this in manoeuvring their boats.
The flow rate is also known as one of the major factors to affect the consumption rate of sacrificial anodes. Additional anodes or a harder, extruded sacrificial anode will be required in areas of higher water flow rates.
In close proximity to a small cluster of cafes, restaurants, and shops.
No other Marina in Brisbane Waters enjoys such a close proximity to small cluster of cafes, restaurants, and shops. There's a local store/bottle shop for supplies and takeaways for your day out on the water.
A gateway to Vast Cruising Area.
The Marina is a gateway to a vast cruising area.
There is no shortage of places to visit and things to do: whether you are into fishing, are a nature lover, enjoy water sports or pure relaxation, you will never get bored with this location - the myriad of cafes, waterside dining, luxury restaurants and takeaways, places to stay, beautiful pristine sandy beaches for swimming and relaxing in the sun or having a picnic.
Large yachts are restricted (due to mast height) to venture north and must be moored on the southern side of the Rip Bridge.
Hardy's Bay is named after Harry Hardy, who kept a small vineyard and sold wine to local residents.
In the 1891 Census a Robert Hardy was listed as living at "Brisbane Water Bar".