Killcare Marina has onsite Marine Trimmer with over 30 years experience making boat covers and canopies.
BRIX Marine products include custom made Bimini Tops and Canopies, Covers and Clears, Side Curtains, Vanity Doors, Cushions, Marine Carpets and more.
BRIX Marine
Offers experienced craftsmen care for your boat (or vehicle).
Offers quality and efficiency. With dedicated workshops jobs are not delayed by rain, wind or storms. BRIX Marine offers a quick turnaround at an agreed and fair price.
Has the space and the equipment to work quickly and efficiently on your job.
Workshop 1: 18-20 Sturt Street, SMITHFIELD NSW 2164
Workshop 2: Killcare Marina premises.
Uses top quality materials, UV stabilised and water resistant fabrics in conjunction with top quality threads.
Has a wealth of knowledge and experience to provide you with long lasting marine fabric solutions.
Aims to ensure you are completely satisfied, and hopes you will recommend Brix Marine to your friends.
Please visit BRIX Marine website to see examples of the jobs http://www.brixmarine.com.au/
For orders and enquiries, please, call Jeff on 04 11 373 544
Bimini Tops and Canopies, Covers and Clears, Side Curtains, Vanity Doors, Cushions, Marine Carpets and more.
Bimini Tops and Canopies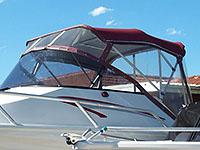 Need to make your canvas last another season? Is the stitching falling apart? If the fabric is still in reasonable condition, BRIX Marine may be able to re-sew your fabric prolonging the service of your material.
Biminis and Canopies are custom made to fit your boat using high quality material and are available in a range of colours.
Standard frames are 25mm x 1.6mm clear bright anodised aluminium tube and high quality Saint Marine fittings. 
Covers
BRIX Marine can make a cover for just about anything you might want to cover - boat, your golf cart, motorbike or any other special item.
Full boat Camper Covers, Storm Covers, Trailer Covers, Motor Covers, Seat covers are available.
Preserve your boat's quality through the years with a cover. Protect your investment from rain, storms, sun, wind and unwelcome visitors.
Clears
Clears and zipper replacement is also possible.
Side Curtains
For staying overnight on your boat or for those occasions where the weather turns nasty - you can be prepared for all situations.
Vanity Doors
BRIX Marine can make you a vanity door.
Cushions, Marine Carpets
Does the carpet in your boat need replacing ? BRIX Marine can do it for you, or recover your seats and / or backrests.