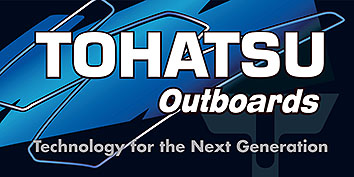 What makes Tohatsu outboards different ? A unique vision to provide the best and most reliable outboard.
While other manufacturers focus on building higher horsepower engines, at Tohatsu focus has always been on building the most reliable engines.
Whether you're fishing at dawn or watching the sunset with your family, you need a motor that will get you back, every time.
We have soldl Tohatsu outboards for many years, and have used Tohatsu outboards ourselves to power our Hire Boat fleet, the engines have proved to be "bulletproof".
Mercury outboards, in the U.S., from 30 hp and below are re-badged Tohatsus. All Nissan outboard engines in North America are Tohatsus with a Nissan decal. Try a Tohatsu and experience the difference.
We are a certified sales and service dealer for Tohatsu outboards which allows us to provide warranty assistance and the ability to purchase spare parts and accessories for these products at dealer rates.
http://www.tohatsu.com.au/outboardengines
Tohatsu Outboards are produced by Tohatsu Corporation. 1956 ushered in the production of the first Tohatsu Outboards (1.5 hp).
Since then, Tohatsu outboards have capably served a variety of marketplaces: commercial fishing, military, marine transport, surf life saving, recreation and competition racing.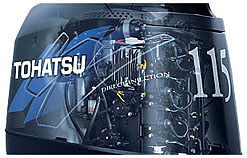 The Tohatsu tradition began by building motors for commercial Japanese fishermen. They needed a motor that could run for days on end, no matter what the weather. The ocean-tested engineering that enables Tohatsu motors to work under these demanding and often harsh conditions makes Tohatsu one of the toughest, most reliable engines available to you.
Throughout the world, Tohatsu has demonstrated the reliability of their engines, making them one of the world's most reputable and largest outboard manufacturers. With an outstanding team of qualified professionals, creativity and innovation, the company has met and surpassed boater's expectations.
Tohatsu's superior marine technology means engines deliver both power you can rely on, and all the benefits of lower emissions. Sophisticated design and quality assurance combine to create cutting-edge outboard engines. Huge range of 4-Stroke and award-winning TLDI engines also include some of the lowest emission outboards available.
TLDI Outboards
They are a leader in innovative design with the environmentally conscious TLDI series of Two-stroke Low pressure Direct Injection, DFI, outboards that meet current EPA regulations for the U.S.
TLDI® outboards provide the environmental offerings of four-strokes while never compromising the powerful running performance of two-strokes. With its three step adjustable trolling speed control, quick acceleration response, compact size, and fuel economy unlike any other, TLDI® can support a wide range of needs for both the pleasure and commercial boater alike. TLDI® continues the long standing Tohatsu tradition of anticipating the tough demands of the next generation of boaters.
4 Stroke Outboards
Tohatsu's priority when developing these engines was to make them lightweight and compact without compromising reliability or the quality performance associated with the Tohatsu brand name. They have maintained the durable standard features that Tohatsu owners appreciate while making fuel-efficient 4-strokes that are easy to transport. These outboards are compact 2-cylinder, SOHC engines that have been manufactured to comply with all US EPA 2006 & CARB 2008 (3-star rating) emission regulations.
2 Stroke Outboards
These Tohatsu 2-strokes are world famous for their reliability, terrific-horsepower-to-weight ratios and top-of-the-line performances. These outboards provide all of the extra features you want and need without compromising Tohatsu's well-known quality.
These outboards will give you performance and reliability for your long days of boating pleasure.