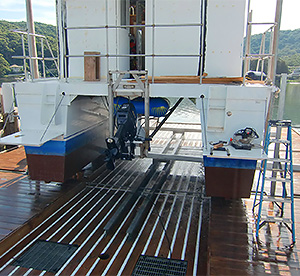 Do-It-Yourself Customers are Welcome for weekend lifting.
DIY weekend bookings are generally available, please call for a quote.
Only minor Owner repairs and maintenance are permitted while the Vessel is in a Berth. Any major repairs or maintenance must be carried out on the Boat Lift.
All Persons at the Premises in any capacity, must be aware of, and follow at all times the Marina Regulations.
Prior to commencing works consult the Manager who will issue any limitations as might apply.
Work Area
All works performed must comply with the Marina Regulations. Those Persons invited by the Marina User are his/her responsibility.
Work Area is to be maintained in a fit, clean and tidy condition at all times, and is to be left clean with all rubbish removed.
Keeping limited access to any hazard zone is essential. The areas of work hazard will be barricaded off to prevent access from the public.
No Unauthorised Persons allowed within the Boat Lift work area at any time.
No Children under the age of 18 years allowed within the work area at any time.
Strictly no Person allowed to be on the Boat Lift during lifting and launching operations.
No Person shall commence work or board a lifted Vessel without Express Permission of the Staff.
NEVER under any circumstances is any Person to move or alter any part of the apparatus securing the Vessel on the Boat Lift.
No Pets allowed within the Boat Lift work area at any time.
No Unauthorised person shall stay on board a lifted Vessel after the Hours of Operation.
There is strictly No Alcohol permitted at any time within the work area.
The wharf and walkways must to be kept clear at all times.
Persons utilising the Boat Lift work area must also comply with the following regulations: No Spray Painting; No Abrasive Blasting; No Hot Work / Welding; No Diving; Strictly No Smoking; all Marina Users must consult the Staff before using a Pressure Washer.
Safe Systems of Work
Approved contractors only are allowed to commence works.
Appropriate PPE & clothing, including shoes, must be worn at all times.
Any working platform, scaffolding or ladder must conform to the relevant Standards.
No machinery, tool or equipment is to be used without effective Guards.
All Persons are to ensure that tools and equipment are kept safe and fit for the purpose.
Workshops are restricted areas and are for the Company Staff use only. It is the Company's policy that tools and equipment will not be lent or hired out.
Certification. No Person shall use any equipment unless authorised to do so. No machinery is to be operated without proper instructions.
Compressors & Air Tools. Safety valves are always to be utilised. Air-lines are to be securely joined to prevent separation during operation.
Explosive-Powered Tools are not to be used at the Premises.
Substances
Liquid Substances must be stored with containment spill trays at all times.
Store used oils, coolants, waste solvents, used rags and paint in separate and covered containers.
Flammable Liquids must be stored in approved flameproof cabinets and stores. Observe correct handling procedures and risk mitigation practices.
Hazardous Substances must be stored in designated trays. Recognise a chemical hazard by the appropriate signage. Read the MSDS of any chemical before use and observe the precautions for use and clean up. MSDSs for all hazardous substances must be available upon request. All Persons must be familiar with the first aid and control measures required.
The Manager is to be notified before any Person brings a chemical or hazardous product onto the Premises.
Unauthorised Dangerous Substances are prohibited within the Premises.
Do-It-Yourself Customers are Welcome for weekend lifting. DIY weekend bookings are generally available, please call for a quote.