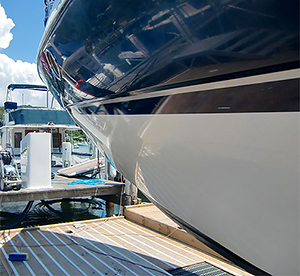 Machine polishing is highly recommended to protect your boat from the salt and sun by introducing a wax layer to the surface.
Newer boats that are polished will retain their gloss much longer with regular polishing. They will stay looking new and help add value upon re-sale against a similar boat that has not been polished.
Older boats are more difficult to bring a shine to, though with an acid wash and a good machine buff, you will certainly notice the difference, even if you don't achieve the "as new" shine. For older boats it is a longer process and the machine buffing provides a good platform to build upon; the more you polish during your regular maintenance days, the better she will become.
Oxidation Removal & Wax
Gone are the days when we had to use hard, abrasive rubbing compounds to literally scrape the oxidation off the gel coat.
We use the latest eco-friendly liquid Oxidation Remover that simply washes off oxidation to bring back the shine without abrasion. This is followed by the application of Boat Wax, a high silicone liquid wax providing the highest standard of long lasting shine.
Compounding
Only used for heavily oxidized vessels. Our rubbing compounds can bring back to life heavily sun faded boats.  
Teflon Sealant
Teflon Sealant is applied after wax to create the 'show look shine'. This is essential if your vessel is a showpiece or you simply want the highest level of shine and protection possible.
Options
Our service can be adapted to suit any requirements and budget; you can simply choose to request an individual tailored polishing service.
Choose Area:
Hull to Gunnel / Deck / Cabin Sides / Roof / Cockpit.
Choose Scope:
Buff and Wax (excellent condition).
Buff, Polish and Wax (normal condition).    
Cut Buff , Polish and Wax (older boats).